| | |
| --- | --- |
| Audience | Logistics provider, dispatcher, carrier |
| Task | User administration |
| Application | eCargo Web |
As a business administrator, you can create and manage individual user accounts for your businesses and customers.
---
Skip ahead to
---
View user accounts
In the Admin section of eCargo Web, you can create and manage users for businesses in My Business and My Customers.
Click on the relevant business, and navigate to the Users tab to view users set up for that business.

Add a new user for a business
In the Users tab of a business (see the previous step), click the New User button. This opens a box where you can fill out details for a new user, making sure to fill in the compulsory fields (marked with a red asterisk).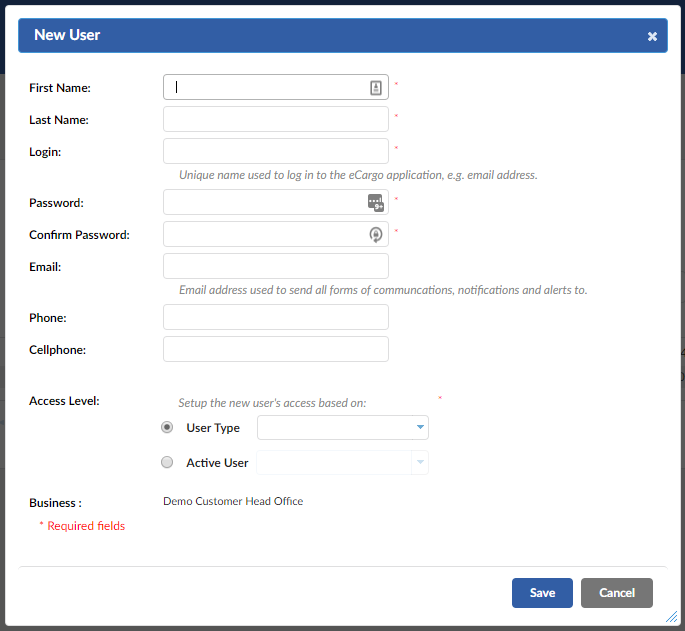 These details include the Access Level - user authorisations (what the user can see and do) can be set by either selecting a standard user type (such as 'Standard Dispatch User') or copying the access level of an existing active user. If you require more specific templates, contact eCargo Support.
When you save the new user account, no activation email is sent - you will need to let the user know their account is ready to be used.
Manage user accounts
Click on a user to manage their account.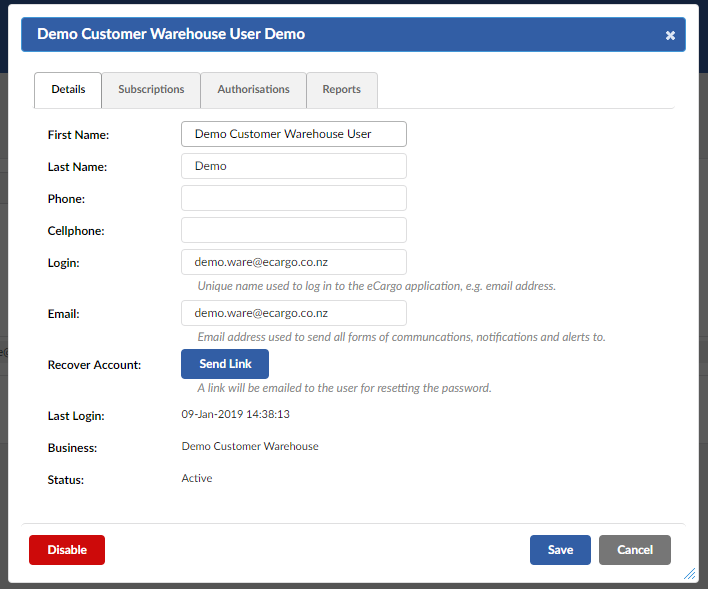 In Details, you can manage login details, disable the user, and email the user a link so they can reset their password.
In Subscriptions, you can set up notifications for the user - for activities like dispatching and invoicing
In Authorisations, you can view and edit the user's permissions.
In Reports, you can view any available reports for the user (such as accruals, delivery on time, and total freight costs).