| | |
| --- | --- |
| Audience | Dispatcher, carrier, logistics provider |
| Task | Setting up eCargo |
| Application | eCargo Premium, eCargo Web |
eCargo Web is the web based application and can be accessed via all current internet browsers. eCargo Premium is the desktop application of the eCargo software, and needs to be installed on a Windows computer.
---
Skip ahead to
---
Accessing eCargo Web
To access eCargo's web application, log in to www.ecargo.co.nz
eCargo Web is designed to work in the following desktop browsers:
Downloading eCargo Premium
Log in to the eCargo website using your eCargo account (see Creating a user account & logging in for more information).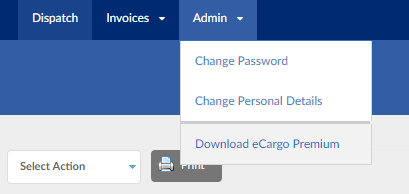 Once logged in, navigate to Admin and Download eCargo Premium.
Installing eCargo Premium
Open or run the file that you downloaded from the eCargo website. This will open an installer - follow the steps and a shortcut will be added to your desktop. Opening this shortcut will complete the installation and open the eCargo Premium application.
eCargo Premium requirements
To install the eCargo Premium application, your computer will need:
Windows 10 or 11 (Windows 7 is no longer supported)
10MB unused hard drive space (for program installation)
You may need administrator permissions to download .exe files on your computer. You may also need to run the program as an Administrator when it is first installed.
Updates to eCargo Premium
eCargo Premium will automatically check for and download any updates each time it is started up.
Having issues?
If you can't connect to eCargo Premium, see Why is there a communication error with eCargo Premium?
If you need another way of installing eCargo Premium, see Technical options for installing eCargo Premium.