| | |
| --- | --- |
| Audience | Dispatcher, carrier, logistics provider |
| Task | Setting up eCargo |
| Application | eCargo Premium |
If the standard installation instructions for eCargo Premium don't suit your setup, you can try one of the options in this article.
---
Skip ahead to
---
Version number summary
The type of eCargo Windows installation can be determined based on the version no. as seen in the login screen.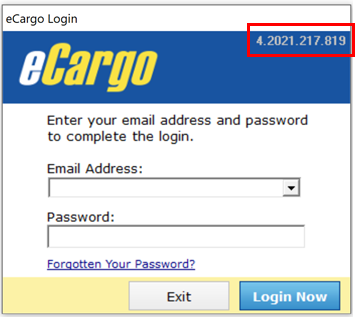 | | |
| --- | --- |
| Version syntax | Version description |
| 4.20xx.xxx | A recent version of the standard 'evergreen' installation. This installation will keep itself up to date by auto installing any updates at the time of login. |
| 3.20xx.xxx | A recent version of the MSI based standalone installation. Updates must be manually downloaded from the downloads page and released to users by the system administrator. |
| 2.20xx.xx | An older version of the MSI based standalone installation. It is recommended this version is updated to the latest from the downloads page. |
| 2.9.x | A much older version of the Windows Premium application. This version is no longer supported, it is highly recommended that the user update their installation by re-installing from the downloads page. |
Description of standard installation
eCargo Premium has two components - the main application (winapp.exe) and the Auto Updater (edmc.exe). These applications are installed into the …[User]\AppData\Local\eCargo directory.
When the eCargo shortcut is run, the Auto Updater checks for updates to the winapp.exe file. If updates exist, it will download a new version of eCargo Premium.
The login and update process is detailed below:
The eCargo Premium shortcut target is set as "…[User]\AppData\Local\eCargo\Premium PROD\EDMC.exe" ACTION=I;APPNAME=ECARGOPROD_200. When the shortcut is run, the Auto Updater connects to the Auto Update Service on the eCargo web server and requests the most recent manifest file (ECARGOPROD_200.mft). If access is authorised to the eCargo Test environment, APPNAME=ECARGOUAT and test.ecargo.co.nz are used instead.
The manifest file is downloaded, and the application compares the version number of the Premium application on the PC to the version number on the manifest.
If the manifest version number is greater, the application will download the updated version of the winapp.exe file.
eCargo Premium will then open and connect to the eCargo web service.
Different options for installation
Installation via MSI file
You can install a standalone full installation distributed as an MSI file (a Microsoft/Windows Installer file). When application updates are released, a new version of this file will be made available via the following page:
Download the current standalone MSI installation.
This will require a valid eCargo login to access.
Bypass Auto Updater
The Auto Updater runs each time eCargo Premium is started up. You can bypass the Auto Updater by modifying the shortcut on your desktop to execute the winapp.exe application directly. Application updates will then need to be performed manually by an administrator.