| | |
| --- | --- |
| Audience | Dispatcher, carrier, logistics provider |
| Task | Getting started |
| Application | eCargo Premium |
The two main screens in eCargo Premium show you summary and detail views of your current jobs and manifests.
---
Skip ahead to 
---
Summary screen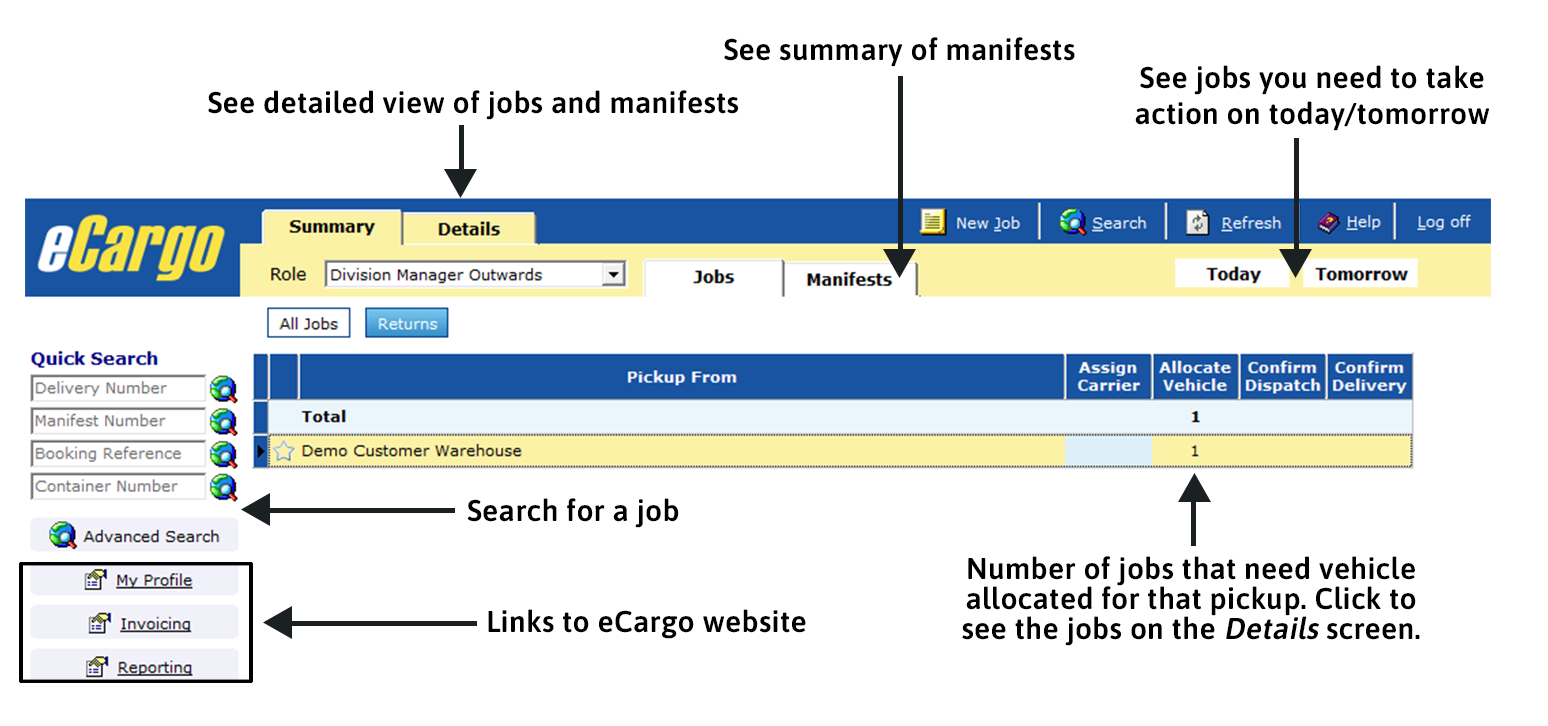 When you log in to eCargo Premium, the first screen you will see is the Summary screen.
In the Summary screen, you can see a summary of your current jobs and manifests by switching between the Jobs and Manifests tabs.
Each row in the summary table represents a pickup point, and the columns show you how many jobs you need to take action on for that pickup point. Clicking on a number in the table takes you to the Details tab, where you can see the relevant jobs in more detail.
Note: To see a past job or manifest, you need to use the search (either in the sidebar or in the main menu).
Details screen

The Details screen displays a table of your current jobs or manifests (depending on whether you're viewing the Jobs or Manifests tab).
Each row of the table represents a job, and the columns contain information about the job.
You can enter information directly into any of the non-greyed out cells. You can also right click on a job for more actions you can take.
Double clicking on a job opens the Job details window for the job. For more on what Job details contains, see Creating a freight job.
You can Print jobs via the button below the main menu - see Printing documentation for more. You can also Export the jobs - this creates a CSV of the jobs and their details.
Menu
New Job
Click New Job to create a new freight job. For more information, see Creating a freight job.
Search
Use the advanced Search to find a job or manifest. You can search by many criteria - including date, action required, items in the job, and various reference numbers.
Select the More button to search for additional criteria such as Customer, Purchase Order, Container Number etc.
Refresh
If jobs have been updated, you may need to Refresh eCargo Premium to see the new information.
Help
Help opens the eCargo Support Centre, where you can submit support requests and read user guides.
Log off
Log off lets you Log out of and close eCargo Premium.