| | |
| --- | --- |
| Audience | Dispatcher, carrier, logistics provider |
| Task | Troubleshooting |
| Application | eCargo Premium |
If you can't connect to eCargo Premium, there a few checks you can do to diagnose and resolve the issue.
---
Skip ahead to
---
Check your internet connection
Check if your internet access is working, or if it's slow to respond. You can test this by trying to access another website that isn't eCargo.
If you can't access other websites, your internet connection might be broken, and you should contact your IT Support for assistance.
If you can access other websites, there could be another issue causing the communication error.
Upgrade to the latest software version
Make sure you are running the latest version of the eCargo for Windows application, which can be found here.
Other possible causes of the communication error
Your network has not enabled the latest security protocols. eCargo only supports TLS1.2 or newer. Contact your IT Support to check if this is the case.
You are running an unsupported Microsoft Windows operating system, which includes Windows XP and Windows 7.
There is a new eCargo Premium release that needs to be updated and this is not happening automatically. See the instructions below on how to update the software, or ask your IT Support to do this for you.
If you had been using eCargo Premium with no error for the past day or so, your firewall might have changed, or there might be other known network issues. Contact your IT Support to check if this is the case.
The eCargo service is temporarily unavailable or can't be accessed by your internet service provider. Contact eCargo Support for further information.
Install eCargo Premium update
If you are having issues with updating eCargo Premium after a software release, try the following:
Run and update eCargo Premium as an administrator
On your desktop, right click on the eCargo Premium icon and Run as administrator.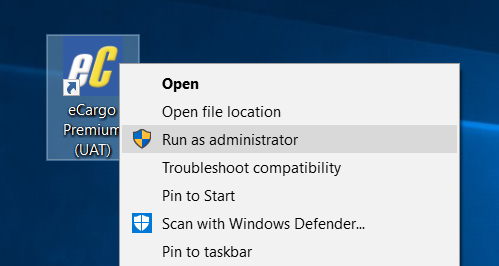 This will start the Auto Updater, which should update the software and allow you to log in.