| | |
| --- | --- |
| Audience | Logistics provider |
| Task | When things don't go as planned |
| Application | eCargo Web |
In eCargo Web, you are able to override a freight charge. You might need to do this if the charge is incorrect, or you need to enter a one-off charge for a charge that failed to calculate.
Note: If the charge can't calculate because a rate card/table can't be found, you won't be able to edit the charge - a rate card needs to be found first.
---
Skip ahead to 
---
Edit a freight charge
To edit a charge for a job, first find the job by going to Find a consignment in the Invoices section of eCargo Web.
Note: To edit a charge, you need to be set up with the correct authorisation. Contact eCargo Support if you need some help with this.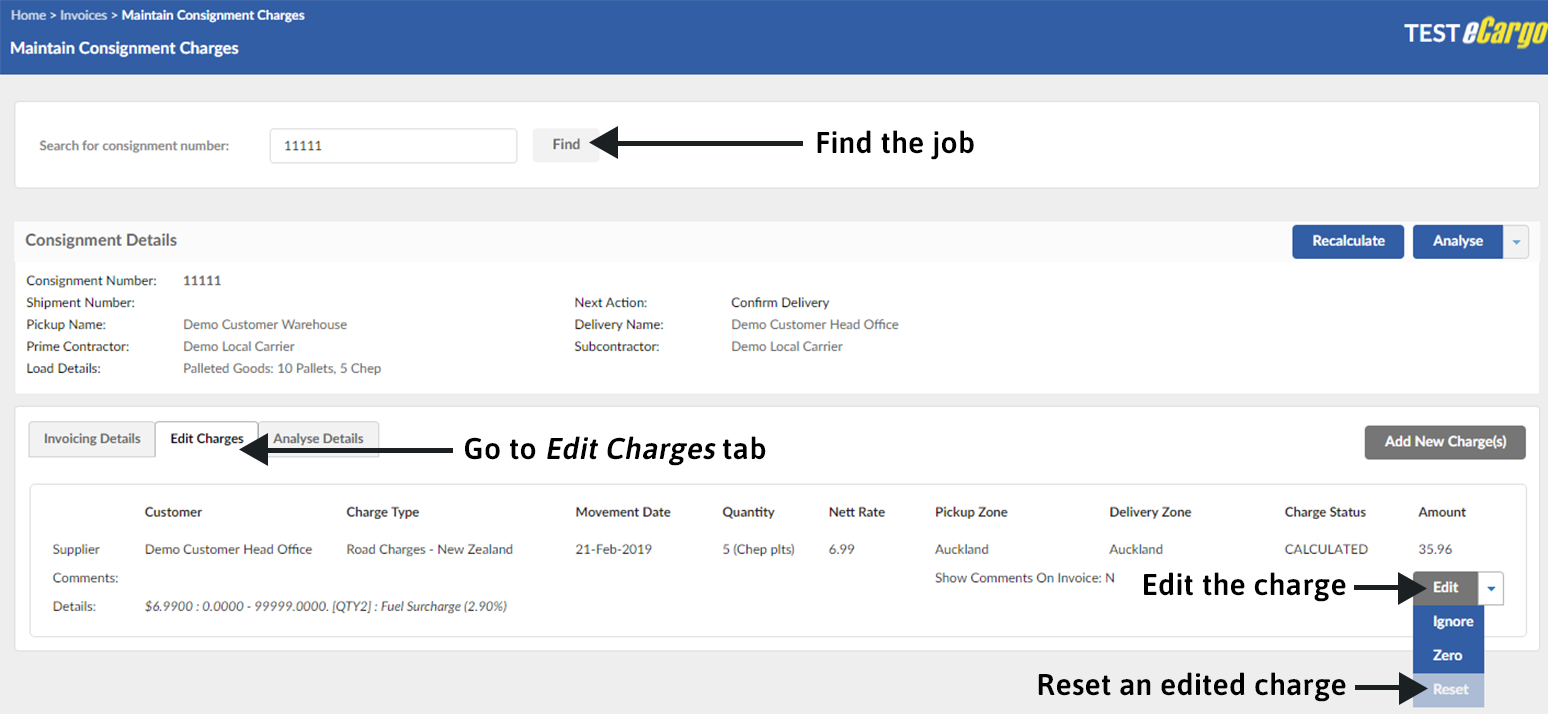 Once you've found the job using its consignment number, go to the Edit charges tab. Note: this tab is only available for users who have been set up with the Freight Charge Override access.
Underneath the charge amount, you can Edit the charge. This allows you to change the Quantity, Nett rate, Amount, and Comments for the job. If you change the Amount (the gross charge), any fuel surcharges will be applied after the charge has been edited.
The dropdown arrow next to the Edit button also lets you ignore, zero, or reset the charge.
Ignore a freight charge
Use Ignore if you want to internalise the charge, or ignore it for now as you will invoice it at a later date.
Zero a freight charge
If you want a charge to be 0, click the arrow next to the Edit button and Zero the charge. This is a better option than manually changing the charge to 0.00, as it won't cause an error.
Reset a freight charge
A charge that has been edited won't revert back to the original charge if it is recalculated (e.g. if you click the Recalculate button in the Consignment details box in the screenshot above).
If you need to recalculate a charge, first click the arrow next to the Edit button, and Reset the charge. You can then recalculate the charge.