| | |
| --- | --- |
| Audience | Carrier, logistics provider |
| Task | When a job doesn't go as planned |
| Application | eCargo Premium |
If you need to undo an action on a job (such as delivery or dispatch), you can use the roll back feature.
---
Skip ahead to 
---
When to roll back a job
Actions are done to jobs in the order of Assign carrier > Assign vehicle > Confirm dispatch > Confirm delivery.
If an action has been done mistakenly, you may be able to roll the job back.
Who can roll back a a job?
Primary Carrier (i.e. not the subcontractor)
Owner
Logistics provider (Division Manager Out, Division Manager In)
When can you roll back a job?
If a job has been confirmed as dispatched (e.g. the goods did not actually go on the vehicle and you need to 'undispatch' the job).
If a job has been confirmed as delivered (e.g. delivery time was incorrect and you need to 'undeliver' and correct the time).
How to roll back a job
To roll back a job, first locate it in the Details tab of eCargo Premium. You can then right click on the job and select Rollback Status under Undo.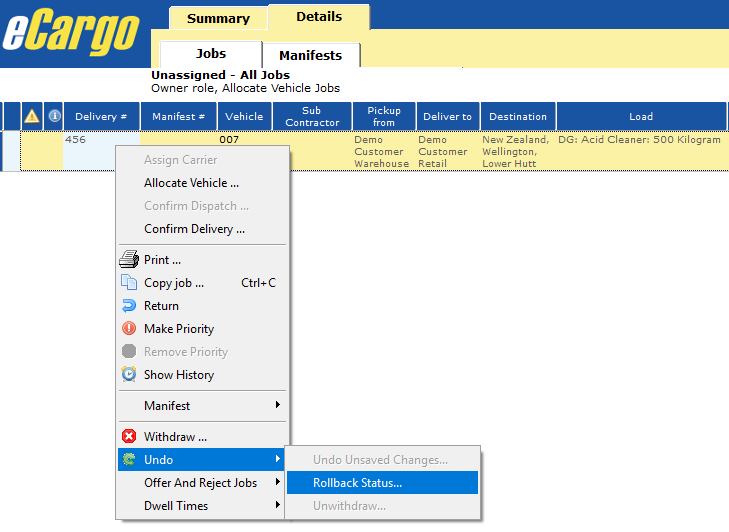 A window will pop up so you can select which stage of the job you want to roll back.
Invoicing a rolled back job
Jobs are invoiced when they are confirmed as dispatched - if a job is rolled back and 'un-dispatched', eCargo has ways of dealing with this.
If freight charges have not been invoiced
The charges are removed, and new charges are calculated when the job is next dispatched.
If freight charges have been invoiced
A notification is sent to relevant Admin & Accounts users to alert them that they need to review potential differences in charges.