| | |
| --- | --- |
| Audience | Logistics provider |
| Task | Managing master data |
| Application | eCargo Web |
Automated lead times allow you to define the date and time that a business' product must be delivered by.
---
Skip ahead to 
---
Lead times (or logistics procurement data - LPD) can be imported into eCargo Web and automatically applied to a business' jobs with certain zones or destinations.
Benefits of using automated lead times include:
Eliminating human error when entering delivery dates and times
Providing consistent and realistic delivery lead times
More accurate delivery on time (DIFOT) reporting as carriers are clearly informed of timeframes required when allocating a vehicle.
Formatting the lead times file
Lead times need to be in a CSV file with the following column headers:
Column
Required?
Values
Customer
Yes
Name must match the name set up in eCargo.
Destination
Yes - either Destination or Zone
Zone
Transit Hours
Yes
Zero indicates same day delivery.
Deliver By Time
Optional
Use 24-hour time.
Saturday Allowed
Yes
Y/N
Sunday Allowed
Yes
Y/N
Public Holiday Allowed
Yes
Y/N. Public holidays are not yet enabled in eCargo.
Active
Yes
Y/N
Importing lead times
Your CSV file of lead times can be imported in Import Logistics Procurement Document Data under the Admin section of eCargo Web.

You will be notified if there are any errors with the imported file. You then need to make corrections to the file, and re-import it.
Exporting existing lead times
To see existing lead times for a business, go to their page in My Business.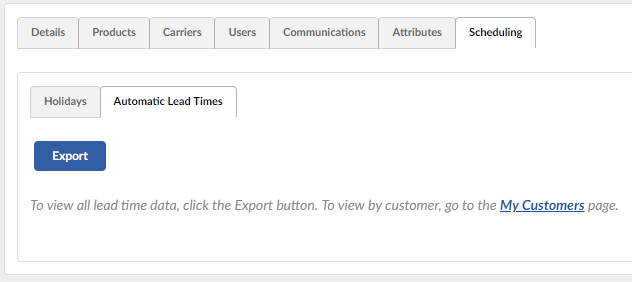 In the Scheduling tab, you can export the current file of automated lead times. This can then be edited and re-imported, if needed.
Overriding automated lead times
When a user creates a job, the automated time will be added to the 'planned delivery time'. The user can override this and input their own time (they will first be warned that the existing time is an automated lead time).