| | |
| --- | --- |
| Audience | Logistics provider |
| Task | Managing freight rates, managing master data |
| Application | eCargo Web |
Rating zones are geographic areas used to determine freight rates. Rate cards use rating zones to define areas where a rate is applicable.
---
Skip ahead to
---
A rating zone can have cities, suburbs, and businesses mapped to it.
Rate cards use rating zones to define what the rate should be from one zone to another.
e.g. You could have a rate card from the zone Auckland South to the zone Wellington with a $20 per m3 rate.
Zone mapping
Zone mapping is the master data used by eCargo to determine which zones the pickup and delivery addresses map to.
Zone mapping data is unique to your business - you can see your existing zones by going to Zone mapping under the Invoices section of eCargo Web.
Tip: To see all zone mappings for a particular type, leave the 'Search text' blank.
Zone mapping types
There are three types of zone that can be set up.
| | |
| --- | --- |
| Zone mapping type | Description |
| Address | Define which suburbs and cities map to which zones. |
| Business | Map a specific business, customer or delivery point to a specific zone. This can be useful for distribution centres where there might be a different rate compared to the rest of the area. |
| Cascade | Cascade one zone to another - if rates can't be found for the zone (e.g. Auckland South), then eCargo will look for a rate in the cascaded zone (e.g. Auckland). This is useful when rates are set at different levels. |
When calculating rates, eCargo will first look for a business zone mapping - if one can't be found, it will look for an address zone mapping, and then a cascaded zone mapping.
Adding a new rating zone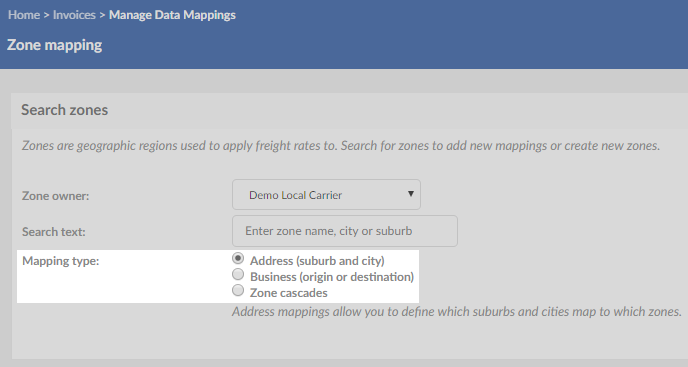 First, search for the relevant zone mapping type in Zone mapping (under the Invoices section of eCargo Web).
You can then add a new zone - this will be different for each of the mapping types.

Select an existing zone, or create a new one. For address zone mappings, all you will need to specify is the city or suburb which maps to the zone.
The 'All' zone
Creating an 'All' zone may come in useful if a large number of zones use the same rate, or you need specific carrier assignment rules for some destination zones but not others. Setting up the zone cascade rules to the 'All' zone will allow you to control carrier assignment and rating accordingly.
For example if you have a metro carrier and a linehaul carrier your auto carrier rules may look like this:
| | |
| --- | --- |
| Carrier | Rating zone |
| Metro | Auckland |
| Linehaul | All |
Suburbs with the same name in different regions
You will from time to time come across a suburb name that is used in different regions, for example Frankton is a suburb in Queenstown and Hamilton. When determining which rating zone to use eCargo will always look at the suburb name first, so if there are rates in place for both Queenstown and Hamilton this may be a problem.
To overcome this simply enter both the suburb and city name into the address mapping for the correct zone, for example map Frankton,Hamilton to the Hamilton zone, as illustrated below:


Importing zone master data
You can bulk import master data for your zones in Import Auto Rating Zone Master Data under the Admin section of eCargo Web.
File format
Zone master data needs to be in a .csv (comma separated values) format. CSVs can be created in Excel - just be sure to save the file with a .csv extension.
You should also make sure that there are no spaces before or after values, as these will be interpreted as part of the data.
Text is encoded using windows-1252 (the format preferred by Excel).
The CSV file must be structured as follows (see attachments for an example file):
| | | | |
| --- | --- | --- | --- |
| Field | Description | Required? | Example |
| Parent | Any zone entered into the 'Parent' field will become the parent zone (zone cascade) of the zone entered into the 'Zone' field. | No | Auckland |
| Zone | The rating zone to be either created or have new parent zone or address mappings created for it. | Yes | Auckland Central |
| Mappings | Defines an address mapping (suburb or city) to the zone. The suburb or city values are used from the consignment address. | No | Penrose |
After you've imported the file, you will be alerted to any errors (such as names not matching the ones in eCargo). Correct the errors in the file, then re-upload it.