| | |
| --- | --- |
| Audience | Dispatcher, carrier |
| Task | Managing job delivery |
| Application | eCargo Premium, eCargo Web |
When a job has been picked up and dispatched, this can be manually confirmed in eCargo by either the dispatcher or the carrier. This will be done automatically if eCargo is linked with your ERP system.
---
Skip ahead to 
---
Automatically confirming dispatch
When changes to jobs are made in your ERP system, they can be automatically updated in eCargo if an Electronic Data Interchange (EDI) is set up between the two. This means that dispatch can be confirmed automatically in eCargo - but this can also be done manually.
Manually confirming dispatch in eCargo Premium 

From the Summary tab, you can find jobs that need to be confirmed as dispatched. Clicking on the number of jobs that need to be dispatched will take you to the Details screen.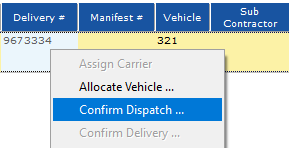 On the Details screen, right click on a job (or select multiple jobs using ctrl, shift, or click and drag) and Confirm Dispatch.
Manually confirming dispatch in eCargo Web

In Assigned jobs on the eCargo Web Dispatch page, carriers can see jobs which need to be confirmed as dispatched (picked up).
Check the boxes of jobs you want to confirm as dispatched, then use Select Action to Confirm Pickup.

You can also click on individual jobs to open the Job Details box, where you can Confirm Pickup.