| | |
| --- | --- |
| Audience | Carrier |
| Task | Managing job delivery |
| Application | eCargo Premium, eCargo Web |
If you are a carrier, allocating a vehicle to a job confirms that you have accepted the job and are available to pick it up for delivery.
If you don't know the exact vehicle that will be used for the job, you can enter your company's initials and update the job with the individual vehicle later.
---
Skip ahead to 
---
Assigning carriers and confirming job dispatch can be automatically updated from your business' Enterprise Resource Planning (ERP) system. This is done by Electronic Data Interchange (EDI) between your ERP system and eCargo.
Allocating vehicles in eCargo Premium
Locating jobs that need vehicles allocated

From the Summary tab, you can see all jobs that need vehicles allocated by clicking the total number of jobs in the Allocate Vehicle column. This takes you to the Details tab.
Allocating a vehicle

On the Details tab, you can type into the Vehicle box to allocate a vehicle to a job.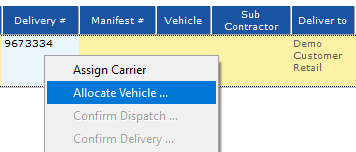 You can also right click to Allocate Vehicle - if you have selected multiple jobs (by using ctrl, shift, or by clicking and dragging), the vehicle will be allocated to all of them.
Allocating vehicles in eCargo Web
Locate the job in the eCargo Web Dispatch dashboard, and click it to open the Job Details screen.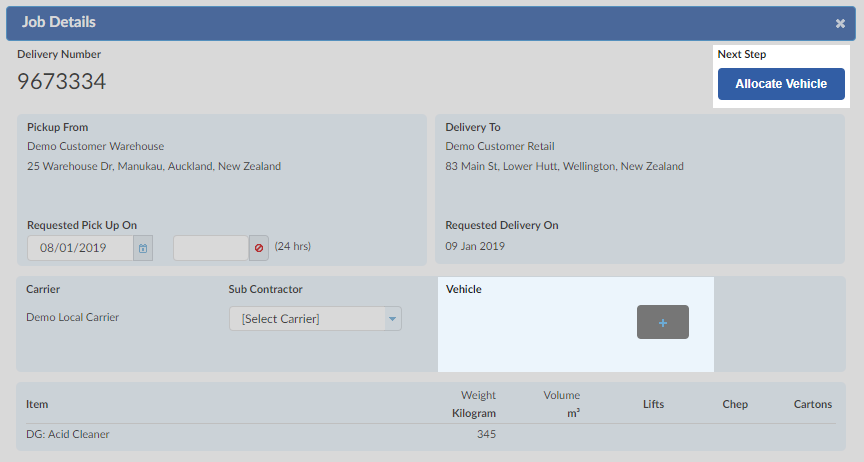 You can allocate a vehicle by selecting Allocate vehicle, or + in Vehicle.