| | |
| --- | --- |
| Audience | Dispatcher |
| Task | Managing a freight job |
| Application | eCargo Premium |
Carriers are responsible for transporting your goods to their destination. You can manually assign a carrier to a job, or if auto carriers rules exist, these will automatically allocate the carrier on Save.

Assigning carriers and confirming job dispatch can also be automatically updated from your business' Enterprise Resource Planning (ERP) system. This is done by Electronic Data Interchange (EDI) between your ERP system and eCargo.
---
 Skip ahead to
---
Manually assigning a carrier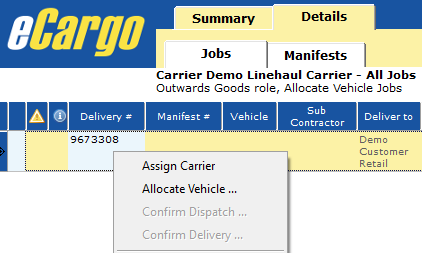 Once you have created a job in eCargo Premium, right click on it and Assign carrier. You can then select a carrier from a drop down list.
Adding more carriers
If you don't see the carrier you're looking for, contact your business administrator - they can set up a new carrier for you.
Auto carriers
Auto carriers assigns a carrier to a job based on business rules - for example, items that need to be kept frozen can be assigned to a carrier that specialises in transporting frozen product. Auto carriers are set up by your business administrator, so contact them if you're having issues with carriers being automatically assigned.
Confirming Dispatch

Dispatchers can confirm the job is dispatched.