| | |
| --- | --- |
| Audience | Dispatcher, logistics provider |
| Task | Create freight job |
| Application | eCargo Premium |
A freight job covers the dispatch and delivery of goods. Freight jobs are created by a dispatcher (or a logistics provider) in eCargo Premium.
Freight jobs can also be created by importing a CSV file via the eCargo Web application, or automatically from your business' Enterprise Resource Planning (ERP) system. This is done by Electronic Data Exchange (EDI) between your ERP system and eCargo.
---
Skip ahead to 
---
Step 1 - Create the job
Click New job in the menu. This will open the Job Details box.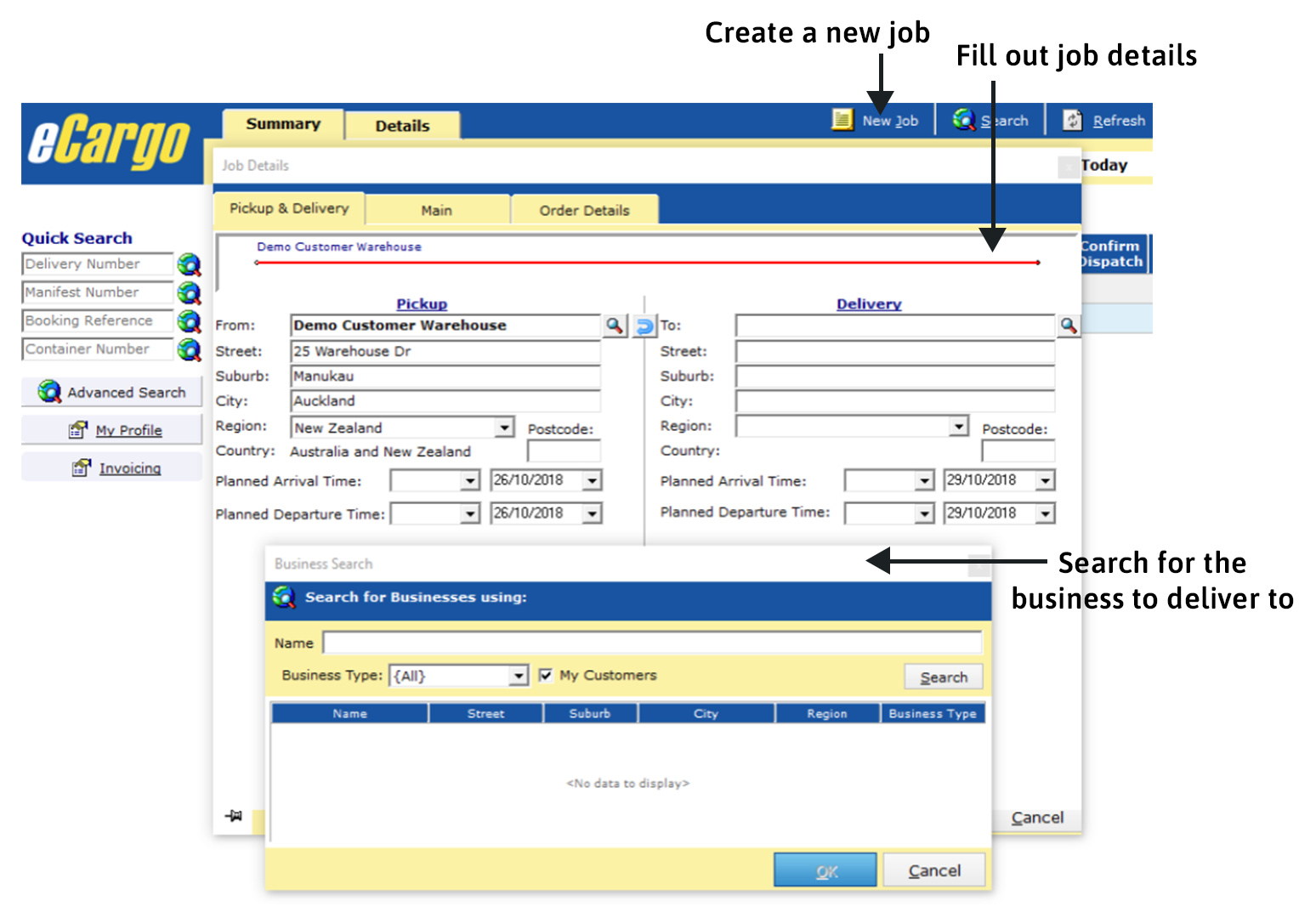 Creating a new freight job in eCargo Premium


Step 2 - Fill out job details
You can add details for the job in each of the tabs in the Job Details box.
A - Pickup & Delivery tab
When you select a business to pick up from, or deliver to, a Business Search box opens
Using Business Search you can select a business for pick up or delivery. If you can't find the one you're looking for, try removing the 'My Customers' selection. These customers are set up by logistics providers, so you will need to contact your logistics provider if one is missing.
B - Main tab
In the Main tab of Job Details, you can fill in information about the carrier and the items for delivery.
Main tab in Job Details
Field
Description

Delivery No

If you don't have a job/delivery number, leave this field blank and eCargo will auto-assign a unique number to it.

Carrier

If you can't edit the carrier, this means you are set up with auto-carriers. When you create the job, a carrier will automatically be assigned.

Vehicle (Vessel)

For domestic deliveries this is the truck name/number. For export deliveries it is the vessel. Assigning a vehicle name implies that the carrier has accepted the job.

Purchase Order No.

Customer purchase order number.


Booking Ref No.

Booking reference number with the logistics provider or receiving site.

Load

You don't need to fill in this field - it will be populated by the items you add under Item Name

.

Comments

Any extra information about the job.

Protection Type

Temperature requirements of the delivery goods.

Hazardous Goods

Select the checkbox to identify the delivery goods as hazardous, and then you can then enter the Class & UN# fields (this will be filled out automatically if the job contains a dangerous good - a DG).

Item name

Use Add and Delete to open the Select items box and add items to the job. You can then directly edit the columns and add values for weight, etc. You can also use [...] to edit an existing item.
C - Order details tab
You can review details in the Order details tab, or select Ok to close the Job Details box.

Order Details tab in Job Details


Step 3 - Save the freight job
Make sure to save your job. You can also add more jobs while on this screen, then save them all at once.

Save the freight job after it's been added