| | |
| --- | --- |
| Audience | Dispatcher |
| Task | Managing a freight job |
| Application | eCargo Premium |
A manifest is a group of jobs that are on the same vehicle. There are a number of reasons why you may want to manifest jobs - such as if they're being delivered to the same destination.
---
 Skip ahead to
---
Step 1 - Create a manifest
You can manifest jobs in eCargo Premium.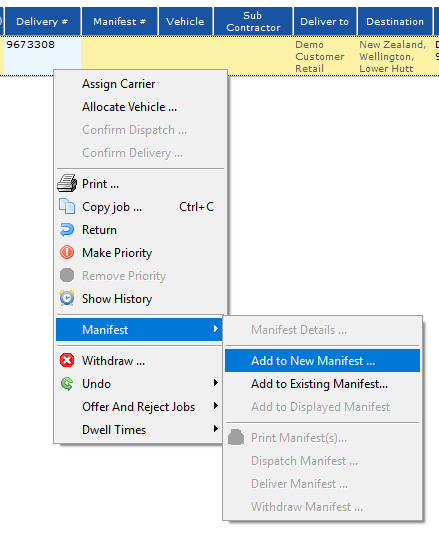 Right click on a job you want to add to a manifest (or use shift, ctrl, or click and drag to select multiple jobs), and choose whether you add to a new or existing manifest.
Step 2 - Fill out manifest details
A - Pickup & Delivery

Pickup and delivery information will be filled automatically if the jobs you added to the manifest have the same details. If the jobs differ from each other, you can leave the fields blank.
B - Main tab

| | |
| --- | --- |
| Field | Description |
| Manifest No | Enter your manifest number, or leave this field blank and eCargo will assign a unique number to it. |
| Carrier | Assign the carrier or subcontractor. |
| Load | The load totals will be created and automatically updated as more jobs are added to the manifest. |
| Vehicle | The name of the vehicle moving the manifest. |
| Comments | Any extra information about the manifest. |
| Instructions | Instructions are automatically  from the source ERP or SAP system when freight jobs are created via EDI |
Add more jobs to the manifest by right clicking them as you did in Step 1, but choose to Add to Displayed Manifest.
Make sure to save the manifest when you have finished filling out its details.
Step 3 - Check the rules for jobs and manifests
Note how changes to jobs and manifests will affect each other:
When a job is added to a manifest, on the manifest you need to:

Assign carrier/subcontractor
Allocate vehicle
Confirm dispatch
When a job is added to a manifest, the following fields can't be changed on the job level - they must be changed on the manifest:

Pickup dates & times
Vehicle
Carrier & subcontractor
Changes made to the following fields on the manifest will be automatically back updated to the jobs:

Pickup date/time (if pickup address is the same)
Carrier/subcontractor
Vehicle
Actual pickup date/time (by confirming dispatch)
Step 4 - Edit a manifest

Manifests are located in the Details tab. By right clicking a manifest, you can access options like printing the manifest, and listing its consignments (jobs).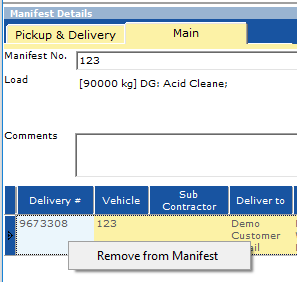 From the Manifest Details box, you can remove a job by right clicking it and selecting Remove from Manifest.