| | |
| --- | --- |
| Audience | Logistics provider |
| Task | Invoicing |
| Application | eCargo Web |
In eCargo Web, logistics providers are able to invoice a business that is not the owner of the freight job. This is useful when a customer has multiple dispatch sites (child businesses), but wants invoices to go to their parent business.
---
Skip ahead to 
---
Set up 'Invoice to' relationship
When an 'invoice to' relationship is set up, the rate table for the customer is used for their jobs, but the invoice goes to another business.
To set up an 'invoice to' relationship between child and parent businesses, locate the child business in My Business or My Customers.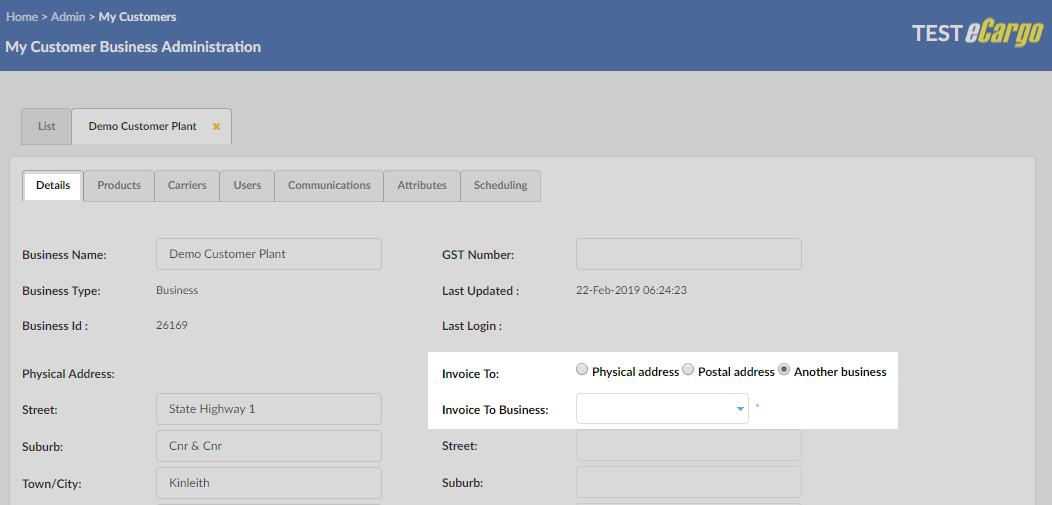 In the Details tab, select 'Another business' as the Invoice To option. You can then choose the business you want to invoice to.
Invoice by charge type
The 'invoice to' relationship can also be by charge type - e.g. sea freight jobs can be invoiced to a specified business.
This can currently only be set up by eCargo - contact eCargo Support if would like this done.