| | |
| --- | --- |
| Audience | Logistics provider |
| Task | Invoicing |
| Application | eCargo Web |
A conversion ratio can be used when calculating the cost of a freight job. This conversion could be from weight to cube, or cube to weight, depending on how you need freight costs to be calculated.
---
Skip ahead to 
---
Setting up weight/cube conversion ratios
A weight/cube conversion ratio option is available and can be added as an Attribute for each business.
Locate the business in My Business or My Customers in the Admin section of eCargo Web. To see the business' attributes, go to its Attributes tab.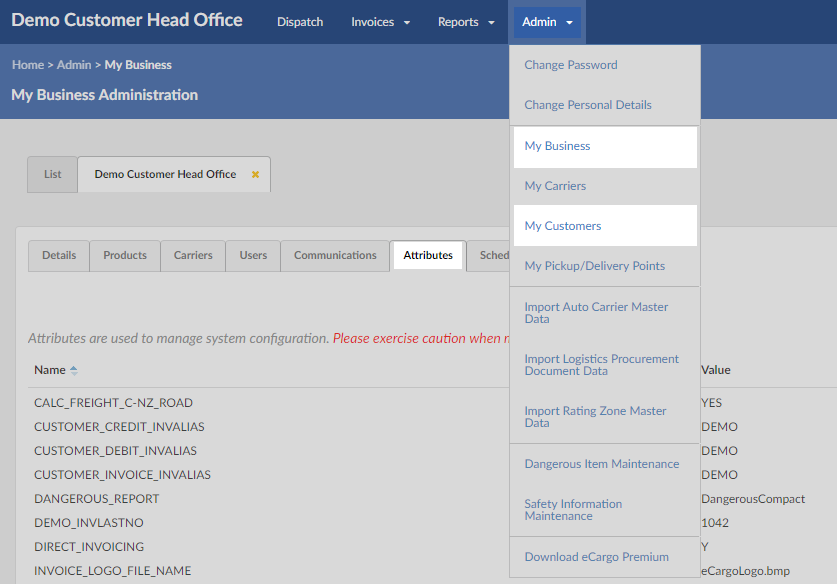 The weight/cube conversion ratios are labelled as either:
WGT_2_CUB (Weight to Cube)
CUB_2_WGT (Cube to Weight)
A conversion value is set for the ratio. The most commonly used ratio value is 333.33 (to convert between KG and M3).
If weight/cube conversion is required and you can't see WGT_2_CUB or CUB_2_WGT in Attributes, you will need to contact eCargo Support to add these for you.
How conversions are used in freight cost calculations
The eCargo software tries a number of calculations and picks the highest one to invoice.
1 - Calculate cost using KG rate if found
e.g. (load in KG / 1000) x rate per 1000KG = cost
2 - Calculate cost using M3 rate if found
e.g. load in M3 x M3 rate = cost
3 - If the WGT_2_CUB attribute is found, calculate cost using weight to cube
e.g. (load in KG / conversion ratio value) = load in M3
Load in M3 x M3 rate = cost
4 - If the CUB_2_WGT attribute is found, calculate cost using cube to weight
e.g. (load in M3 * conversion ratio value) = load in KG 
(load in KG  / 1000) * rate per 1000KG = cost