| | |
| --- | --- |
| Audience | Dispatcher, carrier, logistics provider |
| Task | Troubleshooting |
| Application | eCargo Premium |
If you can't connect to eCargo Premium, there a few checks you can do to diagnose and resolve the issue. 
---
Skip ahead to 
---
Check your internet connection
Check if your internet access is working, or if it's slow to respond. You can test this by trying to access another website that isn't eCargo.
If you can't access other websites, your internet connection might be broken, and you should contact your IT Support for assistance.
If you can access other websites, there could be another issue causing the communication error.
Other possible causes of the communication error
The eCargo service is temporarily unavailable or can't be accessed by your internet service provider. Contact eCargo Support for further information.
You have a new installation of eCargo, but your network is preventing it from accessing the eCargo servers. Your IT Support should be able to help with this.
There is a new eCargo Premium release that needs to be updated and this is not happening automatically. See the instructions below for how to update the software, or ask your IT Support to do this for you.
If you had been using eCargo Premium with no error for the past day or so, your firewall might have changed, or there might be other known network issues. Contact your IT Support to check if this is the case.
Install eCargo Premium update
If you are having issues with updating eCargo Premium after a software release, try the two fixes below:
Run and update eCargo Premium as an administrator
On your desktop, right click on the eCargo Premium icon and Run as administrator.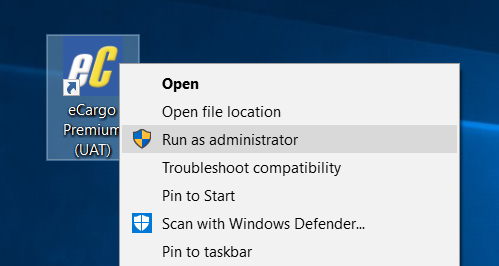 If you don't have the option to run as an administrator, but do have an administrator login, try using this to log in to eCargo Premium. This will start the Auto Updater, which should update the software and allow you to log in.
Re-install eCargo Premium
Log in to the eCargo website. In the Admin section of eCargo Web you can download the latest version of eCargo Premium.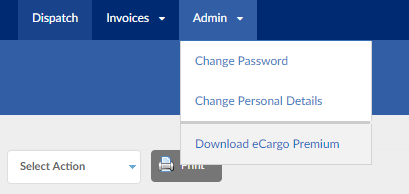 Run the installation file that is downloaded. Once installation is complete, open eCargo Premium by clicking on the icon on your desktop - you should now be able to log in.