| | |
| --- | --- |
| Audience | Carrier, dispatcher, logistics provider |
| Task | Troubleshooting, invoicing |
| Application | eCargo Web |
After an invoice has been approved, a PDF and CSV version of the invoice will be emailed to the customer or supplier who is set up to receive invoices.
If these users aren't receiving email invoices from eCargo, try these steps to identify if the email has been sent, and why it can't be seen.
---
Skip ahead to 
---
Check other email folders
The email may be in:
The spam/junk folder
Another inbox or folder - e.g. for Microsoft Outlook users, it may be in their 'Other' inbox instead of the 'Focused' inbox.
Check that eCargo has sent the email
Logistics providers can go to My Customers in the Admin section of eCargo Web, and click on the customer who should have received the email.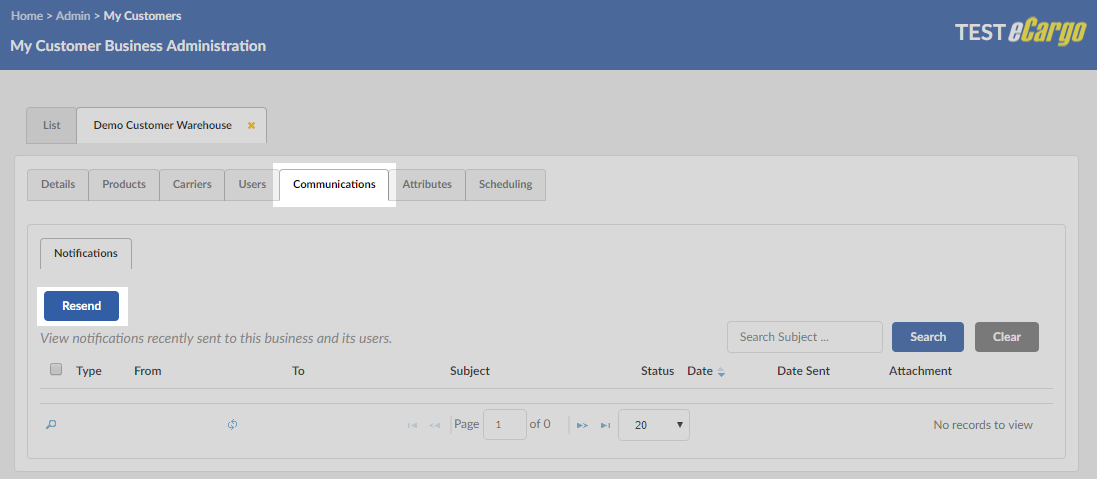 In the Communications tab, you can see recent email notifications that have been sent to the business' users. 
Check the box next to the relevant notification and Resend the email to the user.
If you can't see a notification and are sure that the invoice has been approved, contact eCargo Support.
Get IT support
If you've confirmed that the email notification is being sent by eCargo, you (or the user who should be receiving emails) should contact their IT service provider. They may be able to help track down the missing email.
Contact eCargo Support
If the email still can't be found, submit a support request to eCargo Support.